(Deutsch) Die RDU GmbH gewinnt den 2. Platz beim Hugo Junkers Innovationspreis
(Deutsch)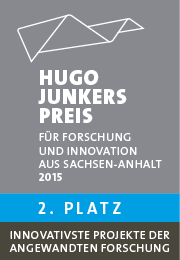 Der Wirtschaftsminister des Landes Sachsen-Anhalt Hartmut Möllring gratuliert der RDU GmbH zum zweiten Platz in der Kategorie Angewandte Forschung für die Mehrkörpersimulationssoftware EMD.
Wir freuen uns von den unabhängigen Juroren aus Wirtschaft und Wissenschaft die Bestätigung für ein innovatives, wirtschaftliches und leistungsfähiges Produkt erhalten zu haben.
Impressionen
www.hugo-junkers-preis.de
Our expertise for your innovative product.
We offer you software solutions and engineering services in the field rotordynamic problems. The multibody simulation software EnhancedMultibodyDynamics, short "EMD", constitutes our special know-how. EMD is able to model transient behavior of elastic rotors in combination with hydrodynamic and hydrostatic bearings. Through our portfolio you will gain some insight into our expertise. For more information about all services, please contact us.

Describe your case,
and we will develop customized solutions how to support you with simulations.
e-mail